Baltimore and Ohio Railroad C2414 is an I-12 "Wagontop" caboose built in December of 1941 at the B&O's Keyser, WV shops. It left the shop wearing the B&O's Devil Red paint scheme.
In June of 1966 #C2414 was refurbished at the B&O's Dubois, PA shops. It was repainted into B&O's Enchantment Blue and put into mainline pool service.
In March of 1977, #C2414 was again refurbished at the Raceland, KY shops and painted into Chessie System's C&O Yellow scheme. In April of 1982, #C-2414 was renumbered to #902414 in Newark, OH.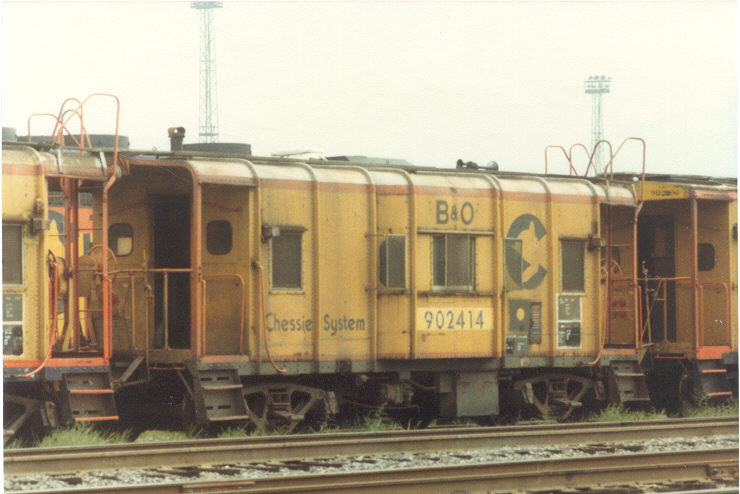 The caboose stayed in service through the Chessie System's merger into CSX and was eventually retired in June of 1985. #902414 sat in Cumberland, MD until a private owner purchased the caboose and relocated it to Jim Thorpe, PA.
In 1986 the caboose was repainted B&O Enchantment Blue. It would occasionally be used on Rail Tours Inc.'s tourist trains.
In October of 2004 the caboose was again sold to another private owner. In Late June of 2014 B&O C2414 left Jim Thorpe, PA via rail to Temple, Pa. Here it was loaded onto a truck and transported to Kutztown, PA.
B&O C2414 arrived at the Allentown and Auburn Railroad later that day in a coat of primer. Months later it got painted B&O Devil Red, though the lettering of the car was never finished. #C2414 can be found on almost all passenger trips on the railroad.